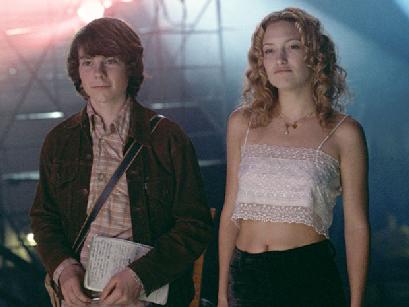 there is this weird connection that men have to the film ALMOST FAMOUS, especially men of my generation or a tad bit older, that i do not think women connect with quite as strongly. i could be wrong. maybe this is a gross generalization. i'm open to being wrong. what i know is that most women say, "yeah, that movie is really good", whereas most men do that tilting back of the head, slacking of the knees, rolling of the eyes, mumbling as if in whiskey-drenched pining, "awww, man, that movie. . . . pafoosh!" speechless. dudes become stupid speechless about that film, and it's not because of the kate hudson. (although, zooey deschenel may have something to do with it.) 
personally, i think it's because of something you mentioned in your last comment, and it's this: something about ALMOST FAMOUS reaches that melodramatic rock-n-roll addicted pubescent boy that knew - that JUST KNEW - there was a wild and wonderful, unpredictable and restless world out there beyond our scope, beyond our parents reach and our religion's hold, and the closest we could get to that place was in music. i remember listening to rock-n-roll as a teenager for the vicarious transcendence it afforded me. music, at that age of 15, did not just entertain me; rather, it took me elsewhere and promised me things that i probably didn't need to be promised. (maybe that's where kate hudson comes in). and the crazy bit is that i believed it. 
i haven't watched ALMOST FAMOUS in a few years. the last time i did, it wrecked me for days. i was nearly incapacitated for a week. i haven't met many women who had the same reaction. but i've met plenty of dudes who have.
oh, and also, besides all the transcendental stuff, we also really wanted to be cool, and to believe we were.
people are bullshitting when the say men and women are equal. thus, BEES. thus, FAMOUS. i would be interested to get your take.
oh yeah, i've never read DIVINE SECRETS, but i watched the movie. it was nice.