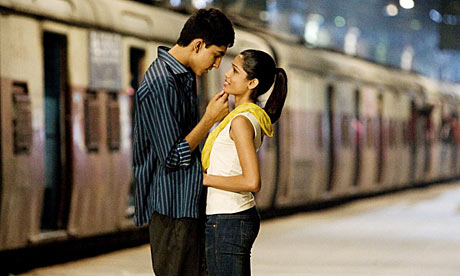 Every year or so at the Oscars, a film gets nominated for Best Picture that is an outsider - a film that doesn't really belong with the big boys. A "little film that could," if you will. LITTLE MISS SUNSHINE was one of these. JUNO got this label. It was SIDEWAYS in '04. IN THE BEDROOM got the honor a few years back. This year, it seems to be SLUMDOG MILLIONAIRE. No bankable stars. No major studio. Just buzz.
Let's get something straight right from the beginning. SLUMDOG MILLIONAIRE is no little film. This movie is every bit as epic as the best Scorsese flick. It's every bit as magical as IT'S A WONDERFUL LIFE. And it's every bit important as PULP FICTION.
The story is built on an ingenious framework. Our hero, Jamal, tells his story, or rather
unfolds
the story of his life to a Mumbai policeman, who is convinced that this boy from the ghetto (this
slumdog
) has cheated his way to the top of the Indian version of
Who Wants to Be a Millionaire?
Jamal tells the tale of his youth with his brother Salim and their third musketeer, a girl named Latika, as they move from near poverty to complete poverty, from being loved to being used, from innocence to self-reliance. Their journey is told through brilliantly vivid colors, humor, horror, and music. Danny Boyle's direction (especially through the first part of the film) is innovative and complete in attention to detail - down to the beautifully memorable way he displays subtitles.
One of the best features of the film is the contrast between the poverty of the boys, and the majesty that they are surrounded by. The best example of this is their foray into the Taj Mahal, pretending to be guides, stealing shoes, and getting run off by palace guards.
As Jamal, Salim, and Latika get older, their paths become more winding and more treacherous. The tone of the film gets more serious and the direction becomes more straightforward. As the stakes get higher, Boyle tightens the tension until you almost can't breathe. The final five minutes are ones that call to mind the best aspects of movies, but more than just modern film making. They evoke classic film in the mold of Bogart, Frank Capra, and even a bit of John Hughes.
A quick note on music. The score was done by classic Indian film composer A.R. Rahman and is the most evocative and interesting complement to a film that I can remember. He's no John Williams. Plus, there's a couple of M.I.A.'s tunes sprinkled through the film - one of the most memorable scenes involves her
Paper Planes
, which is playing as the young Jamal and Salim are riding the trains, scamming and stealing their way across India.
Danny Boyle attacks the senses with gorgeous and tragic images of the slums of India alongside the excesses of a modern society, typified by the wealth of
Who Wants to Be a Millionaire
. His vivacious use of color and grandeur take a simple love story and make it epic. But aren't all great love stories simple and epic?
This is a coming-of-age story in the grandest sense. It's a buddy movie with nods to STAND BY ME and SCARFACE. It's a love story to rival DOCTOR ZHIVAGO. This is
cinema
, people. This is how movies are supposed to be. I seriously can't be effusive enough. Go see it. Twice.
10 Foggy Letter 'B's out of 5.